---
Welcome to The Borough Blog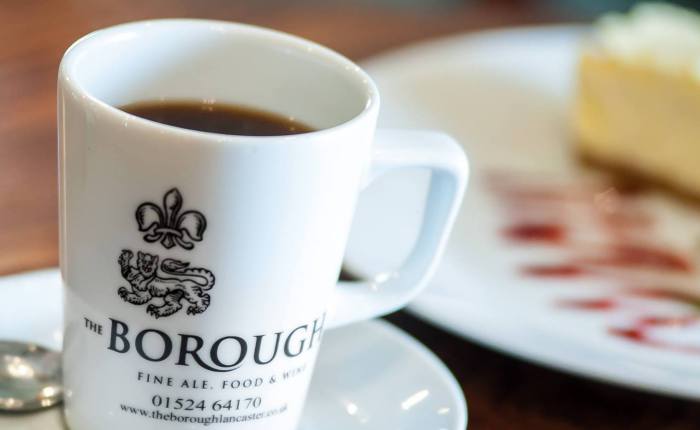 The building in which we now stand has come a long way since its modest and humble beginnings as the Mayor of Lancaster's place of residence. Over the years, our Georgian townhouse has seen transformation after transformation; from a thriving working man's club to the unfortunately-named Blob Shop, a brand in the Yates chain. But this year marks ten years since we opened as The Borough. So, to help commemorate our continuing success we've put together a new blog which will hopefully aim to give residents, locals, regulars and visitors a go-to point of information about all things related to Lancaster, our community, The Borough and our sister-pub, The Lodge.
Here at The Borough we pride ourselves in keeping with tradition and exploring our history, as well as being committed to providing support for the local community. The grade 2 listed building in which we house our restaurant, pub and hotel, is set back in beautiful Dalton Square (far enough away from the hustle and bustle of the main traffic), and dates back to the Georgian period, and much like a lot of Lancaster's heritage, we've tried our best to maintain the grandeur that it exudes.
Over the last ten years we've won numerous awards for our food and drink, most recently winning Pub Of The Year voted by Lancaster Guardian Readers. We have a Five Star food hygiene rating and are passionate about delivering the best food of the highest quality.
We are also proud to be members of the CAMRA Club which campaigns for real ale (meaning we serve a good pint), and we even gained a TripAdvisor certificate of excellence along the way!
One thing we are extremely passionate about is community; where many big-named pubs and restaurants will source their ingredients from far and wide, we are dedicated to supporting local businesses and local people. Our extensive and impressive Gastro menus use ingredients that are from the immediate area; with our beef, pork and lamb coming from the farms in the surrounding hills and valleys. All our chicken is Red Tractor assured and our eggs are most definitely free-range. We also attempt to source sustainable local fish wherever possible.
If that's not enough to whet your appetite, we launched our own micro-brewery in 2013 from which we brew The Borough Pale, Dark and Bitter; and we serve 8 cask ales and over 30 wines!
The Borough also contributes to the local economy; we provide local jobs, work with several charities and are hugely concerned with ever-important and increasingly-poignant environmental issues. Together with The Lodge our values remain firmly planted in these key aspects of service, as we strive to continue to make Lancaster a hub of cultural, historical, and economical importance (and a genuinely nice place to stay too).
We welcome you all to our new blog and we hope you like it.
We hope to share interesting stories and updates about The Borough and The Lodge and keep you posted on all the latest Borough news.
Thank you.
The Borough Team.